SICHERT EUCH DIE LETZTEN TICKETS!!!!!
Der Gewinner zu unserer Verlosung wurde heute benachrichtigt.
Wir wünschen viel Freude beim Mile of Style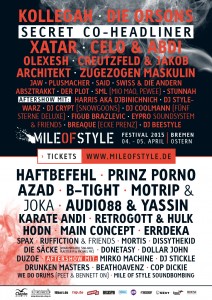 Line Up Samstag:
Kollegah
Orsons
Secret-Co Headliner
Xatar
Creutzfeld & Jakob
Celo & Abdi
JAW
Olexesh
Architekt (Offizielle Releaseparty)
Zugezogen Maskulin
Absztrakkt
Swiss & Die Andern
Der Plusmacher
Said
Der Plot
SML (Mio Mao.Peewee, DJ Matsimum)
Stunnah
Aftershow & Beatshows Samstag:
DJ Binichnich aka Harris
DJ Stylewarz
DJ Coolmann (5 Sterne Deluxe)
DJ Beestyle
Figub Brazlevic
Snowgoons (DJ Crypt)
Eypro Soundsystem + Friends
Line Up Sonntag:
Haftbefehl
Prinz Porno
Azad
B-Tigt
Mo Trip
Retrogott & Hulk Hodn
Karate Andi
Errdeka
Audio88 & Yassin
Main Concept
Spax (Show + Hosting)
Die Säcke (Vokalmatador/Sha-Karl/Plaetter Pi/Michael Mic)
Mortis
Ruffiction + Friends (Audiomax/Shooting Star)
donetasy/Duzoe/Dollar John
Dissythekid
Aftershow & Beatshows Sonntag:
Drunken Masters
Beathoavenz
Mirko Machine
DJ Stickle
We Do Drums (Peet & Bennett On)
Cop Dickie
Mile of Style Soundbombing
Programm:
Indoor-Festmeile mit Aktions- und Festivalangeboten auf 2 Bühnen und 2 Tagen + Außenfläche.
Über 50 Artist´s und Crews!
+ Diverse Überraschungsgäste und Specials
Datum
: 04.04.15 & 05.04.15 (Osterwochenende)
Adresse:
Hannoversche Straße 11, 28309 Bremen
Lokalität:
Aladin / Tivoli
———————
Mile of Style auf Facebook: http://www.facebook.com/mileofstyle